Police Hostage/ Crisis Negotiations Training is an ideal class for hostage and crisis negotiators, Crisis Intervention Team (CIT) members, and law enforcement officers of all ranks and experience!
AGENDA:
Case Study:  The Arlington Heights Negotiation Debrief – In Arlington Heights, Illinois, a man had been stalking his ex-girlfriend and took her hostage.  The first responding police officer was shot in the neck by the hostage taker and went down inside the home.  As the gunman barricaded himself with the hostage, police began negotiations.
Negotiation Excellence – This interactive seminar provides police officers with a framework to conduct negotiations and implement the power of verbal de-escalation and persuasion, using a principle-based approach.  Teams will discuss actual examples taken from the instructor's experience and will be challenged to consider their preparation for the future of police negotiations.
Negotiations Ph.D. – This seminar is the ultimate collection of the people and the resources that police negotiators need to know.  Significant contributors to both the police and business negotiation world will be introduced and discussed.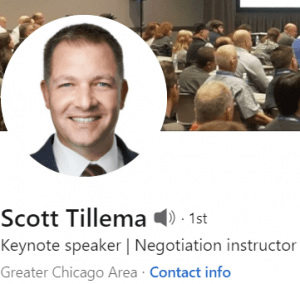 Instructed by Lt Scott Tillema
Scott is a FBI trained Police Hostage/ Crisis Negotiator, spending seven years as a negotiator with the NIPAS Emergency Services Team, one of the largest multi-jurisdictional municipal SWAT teams in the United States.  He has been teaching negotiation for the past twelve years, and is currently the training coordinator at the Schaumburg, (IL) Police Department, where he has been a police officer since 2002.
Educationally, Scott holds a bachelor's degree in behavioral science and a master's degree in psychology.  Additionally, Scott has received negotiation training at Harvard University and IMD Business School. 
Scott's professional affiliations include:
Check out Scott on LinkedIn also.